Playstation 3 Network Error 80710A06
If you're like me you're a very unhappy camper right now due to the playstation network not allowing you to sign in and play Mortal Kombat 9 online. Yeah, I know... It sucks, and apparently there isn't a thing you can do about it, not to mention that I don't think Sony even knows why it is down as of yet. I say that due to a picture a friend just sent me, along with a link to the page. (Which the link is broken now, maybe they are trying to hide something? Conspiracy? I doubt it.) Take a look..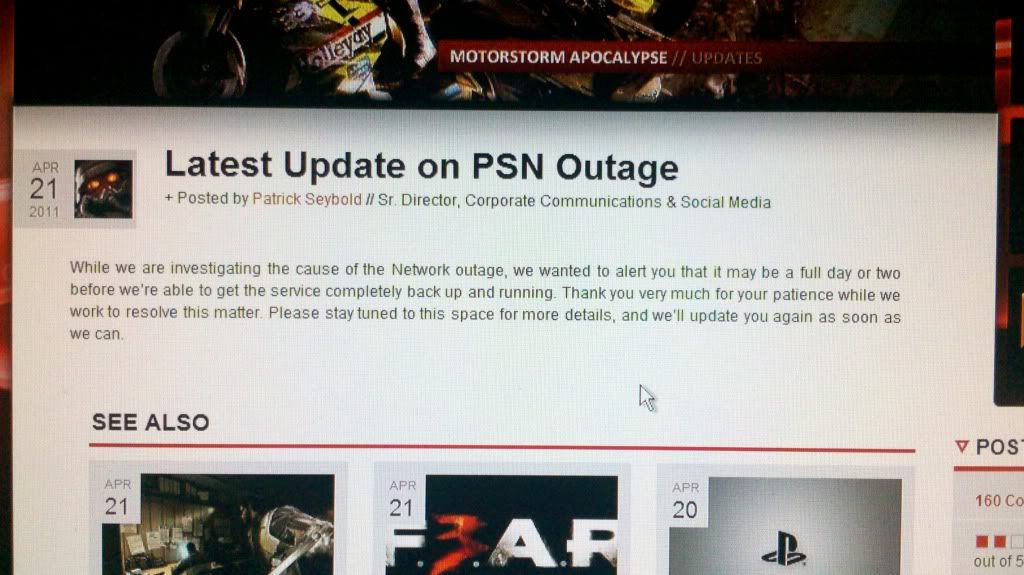 Click for larger image
So will this really take a day or two to iron out the playstation network 80710A06 error? I hope not. While investigating this problem I found a list of playstation network error code explanations, which you can check out by clicking
HERE
! According to this page the error code 80710A06 is explained as follows:
80710A06 - An error occurred during the install operation (error when downloading game from PSN - network error
occurred
I also found a thread where you can keep up with this error as the techs are trying to figure out the crash. Click HERE for the thread.
Update:
It would appear that Sony has admitted to an outside attack on the system, so they shut the whole network down to prevent further intrusion. I don't know how far a hacker would have been able to get into the playstation network as far as affecting its users, however i'm glad to see that they at least did something to TRY and protect its users. Joystiq.com post what they found out from Sony
HERE
.